wood duck, reifel bird sanctuary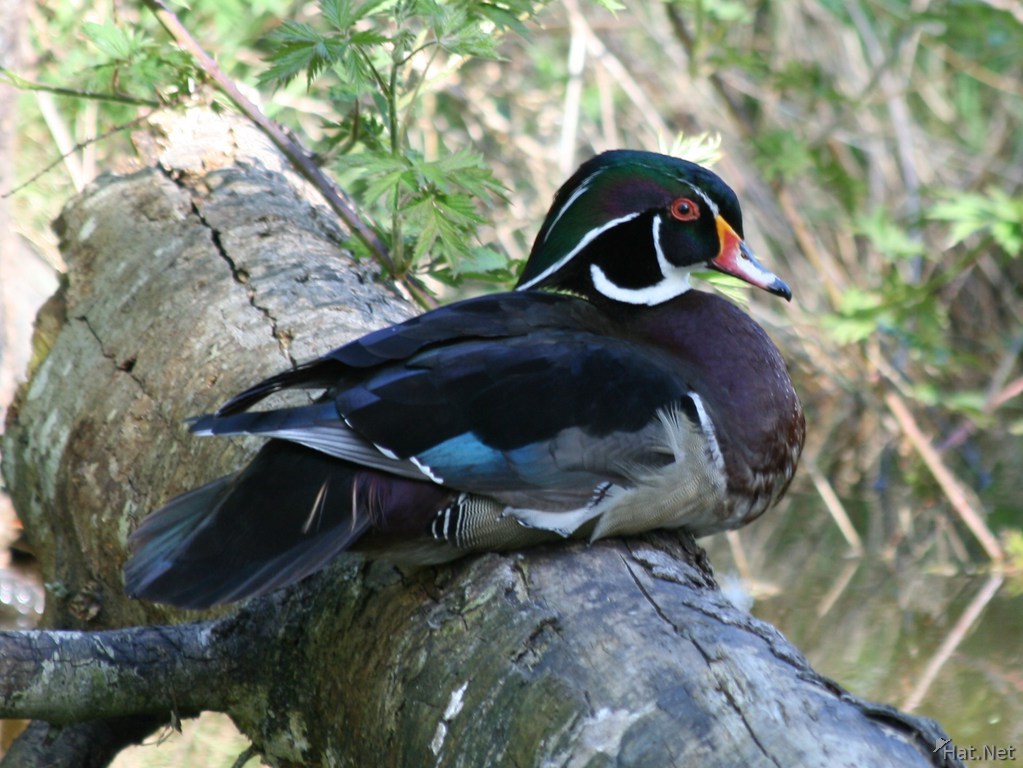 The Wood Duck or Carolina Duck, Aix sponsa is a medium-sized perching duck. A typical adult is about 19 inches in length with an average wingspan of 29 inches. This is about three-quarters of the length of an adult Mallard. It shares its genus with the Asian Mandarin Duck.
The adult male has distinctive multi-colored iridescent plumage and red eyes. The female, less colorful, has a white eye-ring and a whitish throat. Both adults have crested heads. When swimming, wood ducks bob their head back and forth in a jerking motion, which makes them easy to spot.
Their breeding habitat is wooded swamps, shallow lakes, marshes or ponds in eastern North America, the west coast of the United States and western Mexico. They usually nest in cavities in trees close to water, although they will take advantage of nesting boxes in wetland locations if available. Their personality is shy and skittish.
Females typically lay between 9 and 14 eggs. However, if nesting boxes are placed too close together, females may lay eggs in the nests of their neighbors, which may lead to nests which may contain as many as 40 eggs and unsuccessful incubation, a behavior known as "nest dumping". They prefer nesting over water so the young have a soft landing, but will nest up to 150 yards (140 m) away from the shoreline. The day after they hatch, the young climb to the nest entrance and jump to the ground. The baby ducks can swim and find their own food by this time.
Direction
Walk 0.44 km or 7 mins south east from last photo
Info
F 5.6 1/80 ISO 200 with Canon EOS DIGITAL REBEL XTi
Date
2008:05:17 17:18:43
Make
Canon
Model
Canon EOS DIGITAL REBEL XTi
Width
1914
Height
1437
Flash
Off, Did not fire
Focal
300.0 mm
Exposure
1/80
F Number
5.6
ISO
200
White Bal.
Auto
Metering
Multi-segment
Program
Aperture-priority AE
Compensation
0
Hyperfocal
865.65 m
Latitude
49.1005
Longitude
-123.182166666667
Altitude
3.021240234 m
File Size
458 kB
comments powered by

Disqus