japanese sea nettle, aquarium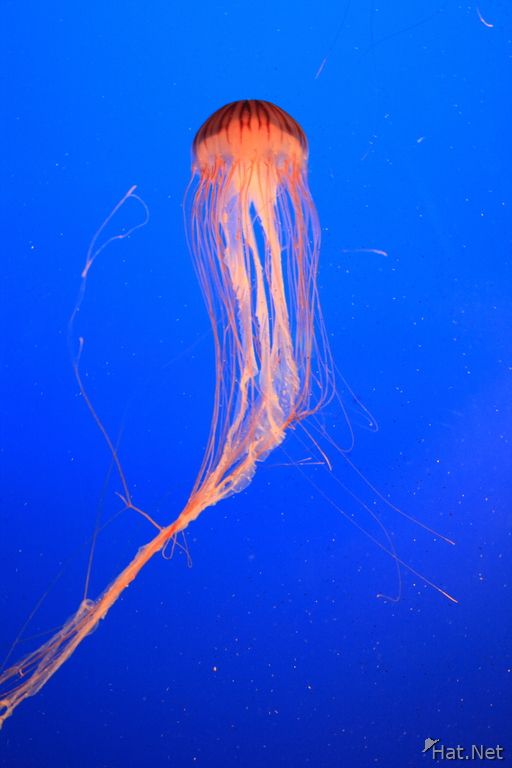 The stinging sea nettle (Chrysaora quinquecirrha) is a species of jellyfish occurring particularly in Atlantic estuaries. It is a bell-shaped invertebrate, usually semi-transparent and with small, white dots and reddish-brown stripes; Sea nettles without stripes have a bell that appears white or opaque. The nettle's sting is rated from "moderate" to "severe" and can be pernicious to smaller prey; it is not, however, potent enough to cause human death, except by allergic reaction. While the sting is not particularly harmful, it can cause moderate discomfort to any individual stung. The sting can be effectively neutralized by misting vinegar over the affected area. This keeps unfired nematocysts from firing and adding to the discomfort.
The sea nettle is radially symmetrical, marine, and carnivorous. Its mouth is located at the center of one end of the body, which opens to a gastrovascular cavity that is used for digestion. It has tentacles that surround the mouth to capture food. Nettles have no excretory or respiratory organs. Each sea nettle is free-swimming and can reproduce both sexually and asexually.
Direction
Same location as last photo
Info
F 5.0 1/15 ISO 800 with Canon EOS DIGITAL REBEL XTi
Date
2008:02:10 12:40:26
Make
Canon
Model
Canon EOS DIGITAL REBEL XTi
Width
2592
Height
3888
Flash
Off, Did not fire
Focal
35.0 mm
Exposure
1/15
F Number
5.0
ISO
800
White Bal.
Manual
Program
Aperture-priority AE
Compensation
0
Hyperfocal
13.20 m
Latitude
49.3008166666667
Longitude
-123.130888888889
Altitude
30479.69531 m
File Size
7.2 MB
comments powered by

Disqus