lions gate bridge, stanley park night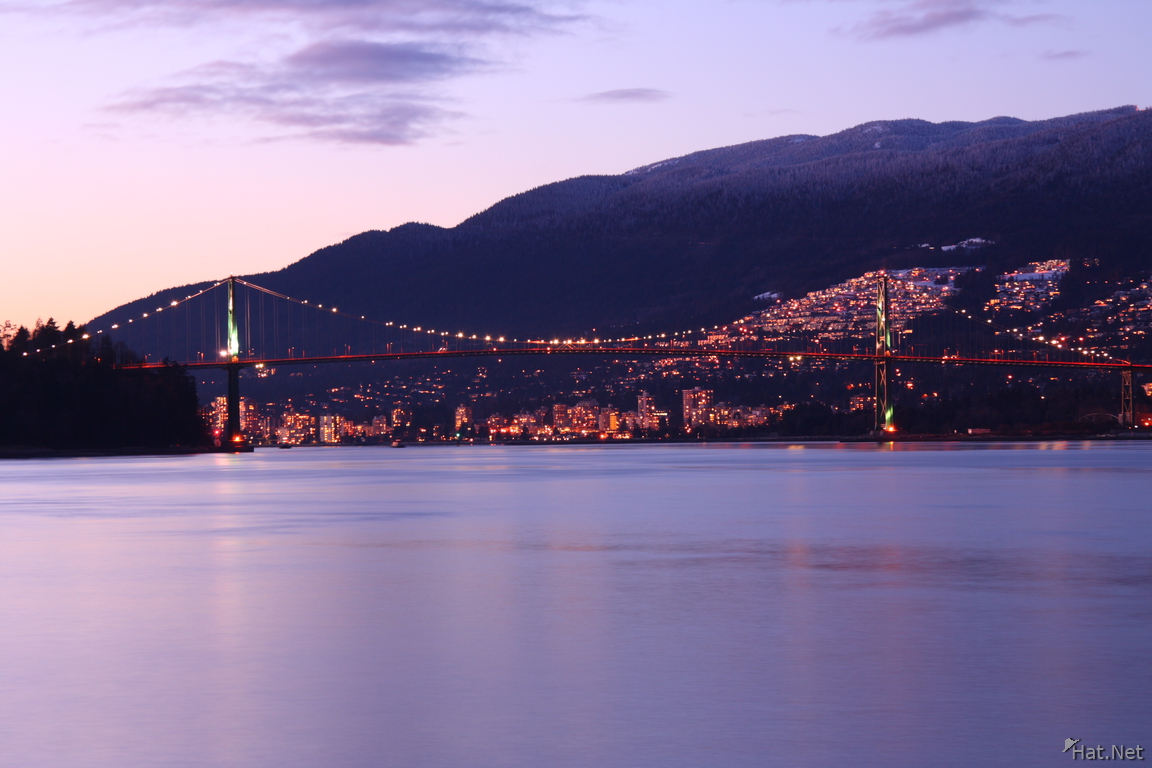 Lions' Gate Bridge, officially known as the First Narrows Bridge, is a suspension bridge that crosses the first narrows of Burrard Inlet and connects the City of Vancouver, British Columbia, to the North Shore municipalities of the District of North Vancouver, the City of North Vancouver, and West Vancouver. The term "Lions' Gate" reflects the Lions, a pair of mountain peaks north of Vancouver. Lions' Gate Bridge (Vancouver) Lions' Gate Bridge Location of Lions' Gate Bridge in Vancouver
The total length of the bridge including the north viaduct is 1,823 metres (5,890 feet). The length including approach spans is 1,517.3 m (4,978 ft), the main span alone is 472 m (1,550 ft), the tower height is 111 m (364 ft), and it has a ship's clearance of 61 m (200 ft). Prospect Point in Stanley Park offered a good high south end to the bridge, but the low flat delta land to the north required construction of the extensive North Viaduct.
The bridge has three reversible lanes, the use of which is indicated by signals. The centre lane changes direction to accommodate for traffic patterns. The traffic volume on the bridge is 60,000 - 70,000 vehicles per day. Trucks exceeding 13 tonnes (14.3 tons) are prohibited, as are vehicles using studded tires.
The bridge forms part of Highways 99 and 1A.
Direction
Same location as last photo
Info
F 9.0 15 ISO 100 with Canon EOS DIGITAL REBEL XTi
Date
2008:02:02 17:45:54
Make
Canon
Model
Canon EOS DIGITAL REBEL XTi
Width
3888
Height
2592
Flash
Off, Did not fire
Focal
61.0 mm
Exposure
15
F Number
9.0
ISO
100
White Bal.
Auto
Program
Aperture-priority AE
Compensation
0
Hyperfocal
22.27 m
Latitude
49.2980888888889
Longitude
-123.119919444444
File Size
5.7 MB
comments powered by

Disqus